A few news stories about Red Emma's from the days of the #BaltimoreUprising
One of the strangest things during the recent Baltimore Uprising was the insane amount of media attention focused on Baltimore City. When we plugged in to help out with the spontaneous network around #BaltimoreLunch, feeding the school children who wouldn't be getting a free lunch since the city locked them out of their school, we found ourselves a little overwhelmed with requests from the national media (probably because unlike a lot of places that were helping make this happen, we had a website with a phone number listed!). We wound up doing a number of interviews, because we felt it was important that the narrative the media was trying to spin about an apolitical moment of healing needed to be corrected: it was important to show local, community-based businesses in Baltimore that were both trying to respond productively to the concrete needs of folks like kids and elders impacted by the unrest, and were being clear that the problem was and is killer cops and brutal systemic racism. We're pretty damn proud, actually, of all the folks in Baltimore who helped keep that kind of discursive space in civil society open, whether by hanging signs on their houses, talking back to CNN, or otherwise refusing to let the law and order narrative demonize the folks whose resistance to oppression in the streets made everything possible.
Ultimately, we wound up with a ton of coverage (like everyone else in the city----D. Watkins in the New York Times!) But we didn't really share any of this coverage on social media; while we're proud of the food we distributed, the street medic organizing we housed, and the homeless youth center we gave a temporary home to for a few days, we didn't think the story needed to be about us, and because we wanted to make really sure the voices that we were amplifying were the folks like Bmore United organizing on the frontlines in Baltimore's Black communities. (And trust us, it's really hard to be a bookstore and not retweet it when Publishers Weekly does a story on you!) So we're collecting it all here for posterity. Please don't share :)
Red Emma's Offers Free Lunch in Wake of B-more Riots Publishers Weekly
With schools closed in Baltimore on Tuesday, as a result of yesterday's riots, worker-owned Red Emma's Bookstore Coffeehouse has stepped in to help. "We're opening the space up as a safe place for students, and giving them a free lunch," said book buyer Cullen Nawalkowsky. She added that she regards the city's decision to close schools as "ill-advised" since, in part, many impoverished kids rely on free school lunches.

The radical bookstore has long worked to get the message out about police brutality and poverty in the city. Now it feels the need to stay vocal, since the riots were incited, in large part, by the death of Freddie Gray in police custody. Some of the books Red Emma's is currently featuring include: Michelle Alexander's The New Jim Crow; Radley Balko's The Rise of the Warrior Cop; Amy Lerman and Vesla Weaver's Arresting Citizenship; and Karl Alexander, Doris Entwisle, and Linda Olsen's The Long Shadow, about disadvantaged kids in the city.
Baltimore community quickly steps up to provide for youth during school cancellations, Free Speech Radio News
Volunteers Step Up After School Closings Leave Baltimore Kids Hungry? , Huffington Post
While the schools remain closed, some community centers are staying open for students. Red Emma's, a "radical gathering place" that serves as a bookstore, restaurant and cafe, is serving free lunch and advertising itself as a safe space for students.

"We wanted to really be there for them today," Cullen Nawalkowsky, one of the co-owners of Red Emma's, told HuffPost. They put out a call for donations this morning, and as word spread on social media, food and supplies have been pouring in. By 2 pm, at least 50 children, along with residents from a nearby housing project, had picked up food. Meanwhile, an educator from the Maryland Science Center, also closed Tuesday, has spent the day playing science-based games with kids at Red Emma's.
Residents Help Feed Thousands of Students, The New York Times
Red Emma's, a bookstore and restaurant, in the Station North neighborhood, was among the businesses to offer students free food. Kate Khatib, a worker-owner, said a wave of 20 to 25 young people were in the building having lunch around 3 p.m. "We have a space, we have a kitchen. It was a way to provide concrete infrastructure and concrete support for folks in the city," she said.
In weary Baltimore, welcome mats begin to replace riot gear, Christian Science Monitor
(what an awful headline---anyone can tell you that there was very little reduction in riot gear, racialized crowd control, and police brutality for many days after this story was published!)
Amid school closures, students embraced across the city, The Baltimore Sun
Where Students Are Going As Baltimore Schools Close Due To Riots, Think Progress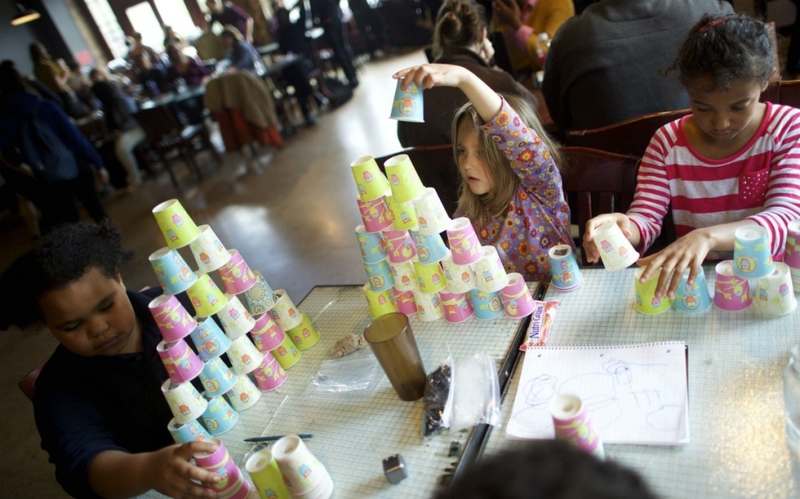 With school on shutdown, are Baltimore students going without?, Al-Jazeera America
Some Baltimore businesses join fight for change; others deal with losses, CNN
John Duda, an owner and worker at the cooperative restaurant and bookstore Red Emma's, decided to stay open after the upheaval on Monday. When workers heard that schools were going to be closed Tuesday, they felt the need to keep their door opens in order to provide free meals to students and those who are the most vulnerable in the city.

"We saw it on social media that people were trying to figure out how to feed school children who depend on school lunches and we thought we could stand in solidarity with folks," the 37-year-old said.