Staff Fiction Pick: Elena Ferrante's "The Neapolitan Novels"
"There was something unbearable in the things, in the people, in the buildings, in the streets that, only if you reinvented it all, as in a game, became acceptable. The essential, however, was to know how to play, and she and I, only she and I, knew how to do it."
- Elena Ferrante, "My Brilliant Friend"
I've never been a fan of literary collections. As a kid, I never finished the Lord of the Rings or Harry Potter, collections which other kids my age devoured. In their magnitude, collections intimidate me. Elena Ferrante's Neapolitan novels, however, have changed my view. Ferrante's four-novel collection has taken the literary scene by storm. Elena Ferrante, an Italian author who writes under a pseudonym, brings to life the friendship of two young girls, Elena and Lila, coming-of-age in a working-class neighborhood of Naples during the 1950s and 60s. The novels, narrated by Elena, trace this friendship from girlhood through adulthood.
When I started "My Brilliant Friend," the first book in the Neapolitan series, I was struck by the maturity of the narrator's interiority and emotional depth, and the fluidity of the prose itself. Elena immediately brings the reader into her world, which is essentially the world of Lila. As we come to know Elena and Lila's struggles, namely the struggle to achieve an education and gain freedom within a violent neighborhood divided by class and run by men who restrict their life choices, we quickly come to know the complexity of this friendship, so tirelessly articulated. As the two girls grow into their teens and their life paths begin to diverge, their enduring friendship constantly drives home to the reader its importance. It becomes apparent that through this friendship Lila and Elena are not only coming to know themselves, and not only finding ways to survive amidst the poverty and patriarchal constraints of their time and place, but they are discovering, and exercising, their very own rebellion.
What I love about "My Brilliant Friend" is how unafraid and unapologetic it is, in the subjects it tackles and voices it amplifies. As a fiction lover, writer and feminist, I am interested in female experiences and transgressions. Lila and Elena's friendship and interiority is highly relatable: every few pages I found myself struck by how much I could relate to Elena's insecurities, jealousy, despair, hopes, and frustrations, and to her feelings, ranging from admiring to resentful, towards her best friend, Lila. Both characters display their flaws to the reader openly, giving us a clear, penetrating view into their souls. Yet their lives are, in many ways, supremely mundane. They go to school. They have crushes on boys. They escape to the beach. They work. An intricate web of neighborhood characters, conflicts, and histories moves their lives along in both fascinating and frustrating ways as both girls find themselves caught in the scripts prescribed by their class and gender. In their manipulation of femininity, both girls seek to exert power over these forces, at times successfully and at times tragically failing.
Though only two hundred pages into the second novel, "The Story of a New Name," centered on Lila's struggle in an oppressive, materially-founded marriage, I am hooked on the Ferrante novels. I am committed to these novels, as much as Elena is committed to Lila, and Lila to Elena. The Neapolitan novels requires its readers to invest, not just in a slice-of-life telling of Lila and Elena, but in the entirety of their life trajectory, which embeds itself in the reader's consciousness as a revolutionary unveiling, the stakes ever growing. I've yet to read a work that asserts the importance, weight, power and authority of female friendship as thoroughly, and realistically, as the Neapolitan novels does. My advice is to disregard the somewhat cheesy beachside covers and commit to these novels. They won't disappoint.
For a fascinating interview (for writers especially) with the elusive Elena Ferrante, check out the Paris Review:
http://www.theparisreview.org/interviews/6370/art-of-fiction-no-228-elena-ferrante
Posted by Chelsea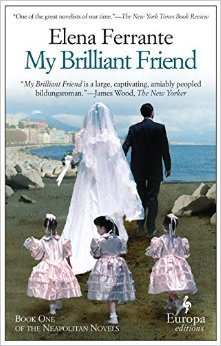 OUT OF STOCK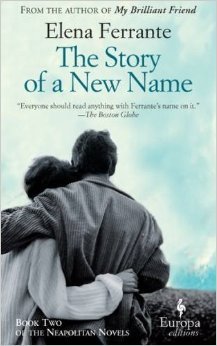 OUT OF STOCK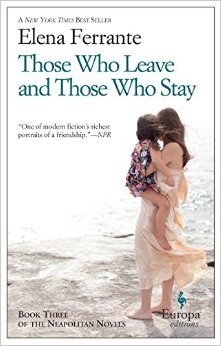 OUT OF STOCK