Join our veggie & flower CSA for 2015!
We've partnered with two awesome local farms to offer a weekly CSA pickup at Red Emma's! For 23 weeks, starting in late May, and continuing until the first week of November, you'll get a box of freshly harvested organic veggies from Little Gunpowder Farm, and beautiful sustainably grown flowers from Butterbee Farm! Email csa@redemmas.org to sign up, or come in to the store and grab an application at the counter! More info below ...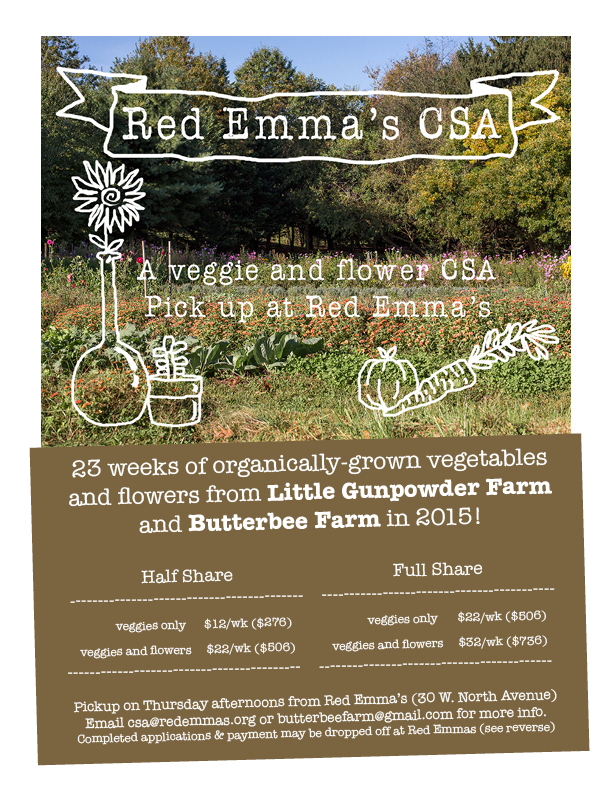 The Red Emma's CSA is a veggie and flower partnership between Little Gunpowder Farm and Butterbee Farm. Though there are many vegetable CSA options out there which offer a sprinkle of flowers, our idea was to create one that combined a weekly bouquet of our florist quality flowers with an abundance of organically grown veggies.
The CSA runs for 23 weeks from the last week of May to the first week of November. We offer four different options to fit your needs. You can choose either veggies and flowers or just veggies. The full share includes enough veggies to feed a family of four, and a bouquet to take home that you'll arrange at pick-up from a variety of loose stems. A half share includes the same self-arranged bouquet, and veggies for two.
CSA members will pick up their shares every week from Red Emma's Bookstore Coffeehouse on Thursday afternoons. Want to sign up? Okay! Email us at csa@redemmas.org, or come in to the store to fill out an application and pay for your share!
Here's a sample of what you'll be getting:
May: Mustard Greens, Swiss Chard, Salad mix, Collard Greens, Spring Onions, Kale, Lettuce, Bok Choi, Snapdragons, Salvia, Larkspur, Dianthus, Bachelors Buttons, Calendula
June to August: Onions, Potatoes, Cabbage, Carrots, Radishes, Turnips, Beets, Cooking Greens, Peppers, Tomatoes, Green Beans, Eggplant, Okra, Lettuce, Cooking Herbs, Cucumbers, Melons, Summer Squash, Yarrow, Dill, Ageratum, Feverfew, Daucus, Basil, Cerinthe, Sunflowers, Lavender
September to October: Peppers, Tomatoes, Eggplant, Summer Squash, Okra, Herbs, Cucumbers, Winter Squash, Popcorn, Sweet Potatoes, Spring Onions, Radishes, Lettuce, Turnips, Cooking Greens, Potatoes, Mountain Mint, Sunflowers, Zinnias, Amaranth, Millet, Broom Corn, Cosmos, Celosia, Ruby Silk, Gomphrena, Goldenrod, Viburnum
November: Potatoes, Cooking Greens, Lettuce, Cabbage, Beets, Turnips, Carrots, Dahlias, Boxwood, Broom Corn, Mums, Dried Flowers