The "Gatling Letter": Murdering workers for profit in 1877
Thanks to the historical investigations of Baltimore labor activist and educator William Barry, whose new book The 1877 Railroad Strike in Baltimore examines the origins of the first national strike in Baltimore, we now have this remarkable document of 19th century capitalism at work.
In the letter, Edgar T. Welles of the Gatling Gun Company writes to John Garrett, the president of the Baltimore and Ohio Railroad, whose unvarnished greed had helped spark the massive wave of labor unrest that shook the country in the summer of 1877, and suggests that the company's machine guns are just the thing to help manage labor relations in the future.
Here's the fascimile of the letter, and a transcript:
Gatling Gun Company.

Hartford, Conn., U.S.A.

August 24, 1877

John W. Garrett, Esq.

President, Baltimore and Ohio Railroad Company

Baltimore, Md.

Sir:

The recent riotous disturbances through out the country have shown the necessity of preparation by such confrontations as the one over which you preside, to meet violence by superior force and skill.

The calls made upon us during the existence of the riots were too sudden to be promptly met, and we have the honor to suggest that you strengthen yourselves now against such emergencies in the future, by providing yourselves with Gatling guns.

The reputation, character and effectiveness of the gun, are too well known to be repeated. Four or five men only are required to operate it, and one Gatling [Second page] with a full supply of ammunition, can clear a street or track, and keep it clear. Hence, a few tried employees supplied with Gatlings, afford a Railroad Company a perfect means of defence within itself.

We forward to your attention by this mail, various publications relating to the gun, and will be happy to furnish any additional information in our power.

Most respectfully,

Gatling Gun Company

By Edgar T Welles

Treasurer
Bill reproduced this, with permission, from the archives of the B&O railroad museum, in his book, which you should buy! He notes that:
The Gatling letter was legendary around Baltimore when I first began to research the strike—legendary because many people had heard about it but no one had actually seen it. One afternoon at the B & O Museum, I rummaged through all of the boxes of material about the strike and—eureka!!--found it. Thomas Ward thought the letter was so outrageous that he suggested I verify its authenticity. It was real.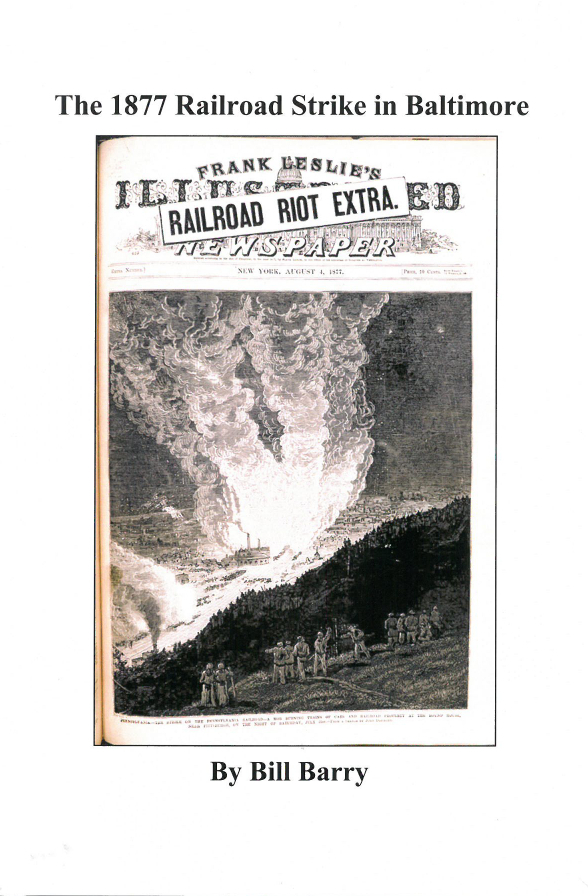 OUT OF STOCK